WHETHER YOU SUFFER OR NOT, ATRANTÍL CAN HELP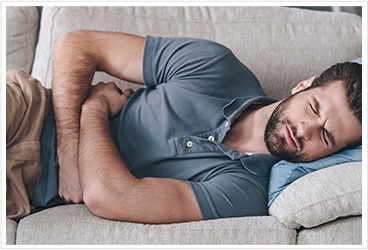 Imagine finally living without the discomfort of IBS symptoms, such as swollen abdomen from bloating and constipation or diarrhea. Whenever you suffer, Atrantíl can help.
The three natural botanicals in Atrantíl work together to calm the digestive track. How quickly Atrantíl provides relief depends on the regularity of your symptom
Atrantíl is formulated to deliver ideal daily support and balance to your digestive system, like no other product available.  Atrantil is a powerhouse of polyphenols and antioxidants that benefit your overall health.
Whether your body is having to fight challenges from bacteria being where it doesn't belong. Or wanting to maintain a healthy microbiome for overall health benefits, daily use of Atrantíl gives your body an advantage in maintaining optimal health. Maintenance dosing of Atrantíl, 2 capsules daily, can deliver this ideal support.
Digestive health is important for all of us. For the millions of people who live with the bloating and abdominal discomfort caused by gas in the gut, Atrantíl can help. For those who do not suffer from symptoms of digestive distress, Atrantíl can also help. Atrantíl's unique formula continually supports a healthy gut and promotes overall health.
For ideal everyday health benefits, take 2 capsules of Atrantíl daily. For those who have digestive distress take Atrantil before enjoying foods that give you trouble, up to three times a day regularly until you experience relief. Atrantíl is a natural solution that delivers digestive support with dependable and flexible relief. *
*Individual results may vary
Bloating and abdominal discomfort with/without constipation, diarrhea or both —may appear out of the blue, without warning. With no clear cause, you may find yourself blaming certain foods and making drastic changes in how you eat. When your bloating symptoms arise, they may interfere with normal daily activities and even dictate the clothes you wear. Intestinal pressure can make you feel full, heavy and unattractive. In addition, sometimes this added pressure can create immobile intestines that lead to constipation or diarrhea, your ability to function and enjoy life has been seriously impaired.
It's recommended to begin dosing at 2 capsules of Atrantil, three times a day with food. Relief may take 10-20 days depending on symptoms. * Continue until relief from bloating is realized, then consider maintenance dosing to maintain stability and promote overall digestive health.
*Individual results may vary
FINE-TUNE THE ATRANTÍL TREATMENT LEVEL THAT WORKS FOR YOU
Atrantíl controls gas-producing bacteria, returning the gut to its normal state and let's the digestive tract work the way it should.
*Individual results may vary