WHETHER YOU SUFFER OR NOT, ATRANTÍL CAN HELP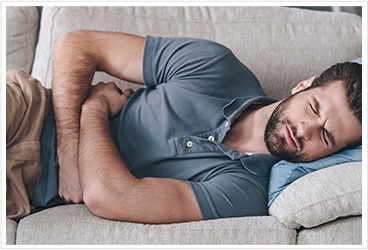 Imagine finally living without the discomfort of a swollen abdomen from Irritable Bowel Syndrome (IBS) or Small Intestinal Bacterial Overgrowth (SIBO) with/without constipation, diarrhea, or both. Whenever you suffer, Atrantíl can help.
The three natural botanicals in Atrantíl work together to calm the digestive track. How quickly Atrantíl provides relief depends on the regularity of your symptom
Atrantíl is formulated to deliver ideal daily support and balance to your digestive system, like no other product available. Even for those who may not have noticeable symptoms, Atrantíl can increase cellular support to promote a healthy gut.
Many times our bodies are having to fight challenges from bacteria being where it doesn't belong. Daily use of Atrantíl gives your body an advantage in maintaining overall digestive health. Maintenance dosing of Atrantíl with 2 capsules daily can deliver this ideal support.
Digestive health is important for all of us. For the millions of people who live with Irritable Bowel Syndrome (IBS) or Small Intestinal Bacterial Overgrowth (SIBO) caused by gas in the gut, Atrantíl can help. For those who do not suffer from symptoms of digestive distress, Atrantíl can also help. Atrantíl's unique formula continually supports a healthy gut and promotes overall digestive health. For ideal everyday digestive support, take 2 capsules of Atrantíl daily. For those who have digestive distress take it before enjoying foods that give you trouble—and up to three times a day regularly until you experience relief. Atrantíl is a natural solution that delivers digestive support with dependable and flexible relief.*
*Individual results may vary